DILAX joins Women in Mobility panel discussion at MES Insights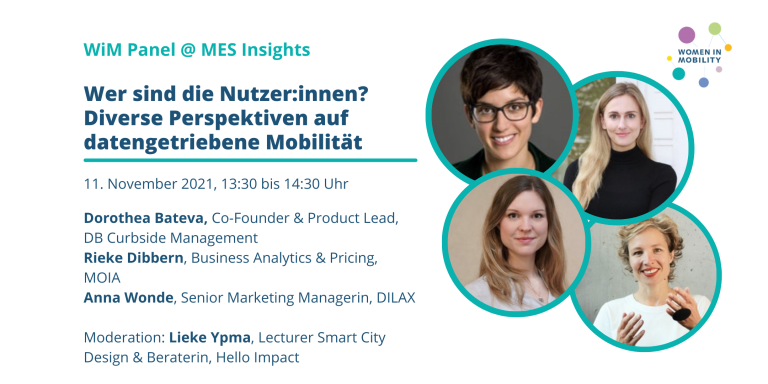 Mobility offers have changed a lot in recent years, new players have entered the market and innovations are constantly being added. Especially in the B2B sector innovative solutions are being established, be it in software, possibilities for collecting and analyzing mobility data, open data projects and others.
Click here and use code #Insights21 to get a free ticket to the digital event.
But who actually are the users of these solutions and offerings, and how can innovation really become user-centric? Moderator Lieke Ypma talks about this on the Women in Mobility panel with guests Anna Wonde, DILAX, Dorothea Bateva, DB Curbside Management and Rieke Dibbern, MOIA.
Women in Mobility is a network for women in the mobility industry. Organized into hubs in individual cities, Women in Mobility offers women in the DACH region a platform for exchange and networking. With their own events and contributions to trade conferences and trade fairs as well as with the support of partners such as DILAX, they want to enable women from different mobility sectors to get in touch with each other and advocate for the visibility of women in the industry.