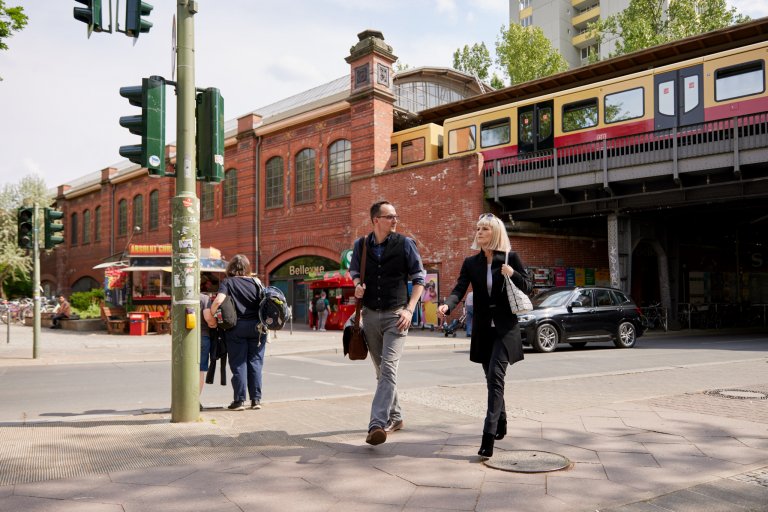 For better mobility. Better shopping. Better cities.
Cities are complex places, we work for the city and are part of it ourselves. It's where we live, meet up with friends and family, do our shopping and go to work. We are on the move – on public transport, on our bikes and in our cars. Our solutions support and strengthen the key functions of the city: mobility, shopping and entertainment, as well as the quality of time spent in public spaces and work environments. We produce insights that can make the city even better for people. Our vision: local data for better cities.
We are Berliners with Swiss roots, with large markets and long-term customer relationships. We've been around for a long time, yet we're always reinventing ourselves. Together we are shaping new work environments and learning every day – from each other and with each other. We have grown in size but we still know who everyone is. We have flat hierarchies and everyone is on a first-name basis, right up to the management. Our commute is short, our communication channels are even shorter – often just a team call away.
From Berlin to the world – from the world to Berlin. We speak English, German, Swabian dialect, French, Portuguese, Hindi and Persian. Our colleagues come from over 30 countries and we have offices in France, Spain, the UK, Switzerland, Canada and the United States. We work closely together – across borders and time zones, full-time and part-time, from home and in the office. Early bird or night owl – we are flexible, like our work and enjoy our free time.
We are developers, engineers and technicians. We design, program and produce our intelligent software and hardware in-house in Berlin. Complex system solutions are at the core of our company.
Our activities range from automatic passenger and visitor counting to business analytics, seat management and Wi-Fi tracking.
Can a sensor make the city better? Yes, we believe it can!
Our HR team supports you with the application process and when you are with us in career questions. It is important to us that you and we know early on if we have a common future. Therefore, we're eager to giving you feedback on your application as quicky as possible.Susann Richter, Anja Schramm & Friederike Junge
We are looking forward to your application!
Want to join the team? Please send us your complete application by email. The email should include a cover letter, your resume and relevant reference letters, and be sent as a PDF file. We cannot consider ZIP files and Word documents. And please don't forget to include your earliest possible starting date and your desired salary in your application.
Please don't hesitate to get in touch if you have any questions.