Webinar
Thursday, September 23, 2021
2 pm CET
Zoom-Meeting
Best Practice: Short vacation at the outlet center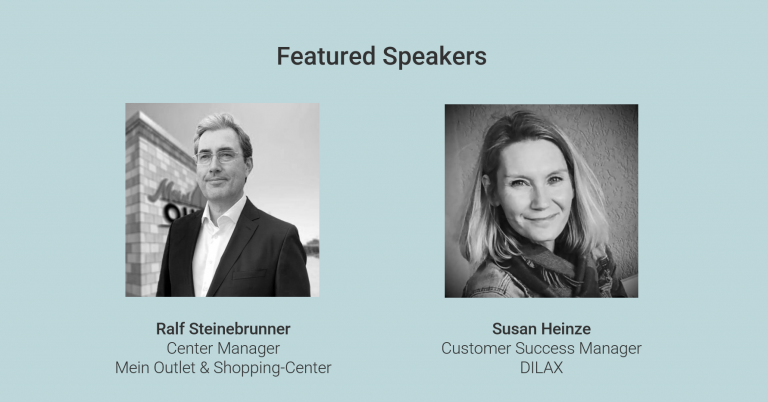 More than a year of pandemic activity in Germany has permanently changed the purchasing behavior of many people. Studies show that shoppers make their purchasing decisions differently, do more research, and are concerned with hygiene concepts and safety when shopping in stores.
Here you can watch the DILAX Lab from September 23.
Retail analytics in practice
Online commerce is strong, and was before Corona. However, this development has further accelerated the pandemic. Brick-and-mortar retail is clearly feeling the effects. Retailers are intensively looking for new ways and concepts to attract customers back to the store. The focus here is on the shopping experience, the customer experience - trying on goods, touching them, testing them, getting advice, and experiencing that certain something extra.
Best Practice Customer Experience
The customer experience, how to define, measure and develop it - that's the focus of the DILAX Lab on Thursday, September 23, 2 pm. Susan Heinze, DILAX Customer Success Manager, will talk with Ralf Steinebrunner from Mein Outlet & Shopping Center Bremerhaven about his approach to creating attractive customer experiences with retailers.
Outlet center management has long recognized and addressed this factor. Customers take up to two hours to travel to an outlet center, which is significantly more than the standard route to shopping in the surrounding area. Those who take on this long journey don't just want to spend money, they want to experience something. With the whole family, with the partner, with friends. Right now, the thirst for beautiful experiences, immersion in another world is great. A price advantage and discount alone can't do that, so what makes a shopping experience and how can it be developed?
How experiences become measurable
Ralf Steinebrunner has been working in outlet center management for many years and is an expert in the field of center development. For him, one thing is clear: If the desire to immerse oneself in a new world is a main argument for visiting a center, the experience should be measurable. He relies on measurability at Mein Outlet & Shopping-Center Bremerhaven. It uses sensors to count visitors throughout the building and monitor KPIs such as visitor frequency, walking distances, access to individual stores, and length of stay.
Shared data for joint actions
Dwell time in particular is an important indicator for him. In Bremerhaven, not only he as center manager but also the retailers themselves have access to their access statistics and other KPIs. From these, measures are derived regularly and also acutely to improve performance. After all, there are many factors that positively influence the length of stay and thus make the outlet center as a whole attractive for visitors.
On September 23, we will talk with Ralf Steinebrunner about which analyses have proven successful in outlet center management, which KPIs are particularly meaningful, and how tenants and management work together on the positive development of the center. You can register here to take part in the discussion live and ask your questions.