Transformation Strategies for the Future of Cities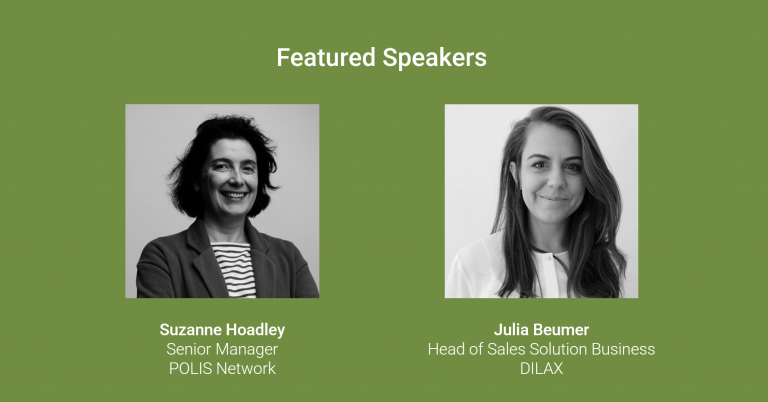 Sustainable Mobility
Watch the DILAX lab on demand
Cities are growing everywhere - as centers of business, culture, science, health care, sports and education. They are living space and place of work for more and more people. For people who live in the city and are on the move, as well as for people who get in from the surrounding areas. We will see this again in the "new normal" and it makes mobility the key to many qualities of a city. Mobility is crucial for the social and efficient use of existing space, just as it is for achieving climate protection goals in cities.
Strategies
for the resilient city.
Designing and managing mobility in a sustainable way is a fundamental challenge for many municipalities and regions.
We want to talk about strategies for the sustainable transformation of mobility in urban areas with Suzanne Hoadley. Suzanne is Senior Manager and Coordinator for Traffic Efficiency at POLIS. This network brings together 67 European cities and regions, including Baden-Württemberg and Berlin, Aarhus, London, Manchester and Vienna, to jointly develop innovative technologies for urban traffic and transport. At the same time, POLIS supports their members in communication and cooperation with the European Union.
What makes mobility sustainable - fundamentally and in a COVID-19 world? What strategies do cities use to make transport efficient - from the city center to the surrounding countryside? What are local authorities and politicians, economy and science doing to develop sustainable mobility? What role do digitization and data management play in this?
It is clear that no one can accomplish this task alone. It took many thought leaders, trailblazers and role models to get out of the traffic rut as we knew it, to change and get on.
That's why we want to have discussions and exchange with customers, partners and stakeholders. At DILAX, we support many transport operators and municipalities in Europe and worldwide with our systems and digital platforms to develop public mobility in an attractive, connected, multimodal and inclusive way.
If you have any questions or feedback on the DILAX lab, please feel free to write us what you would like to know: webinar@dilax.com.