Webinar
Thursday, March 31, 2022
Making live occupancy data a standard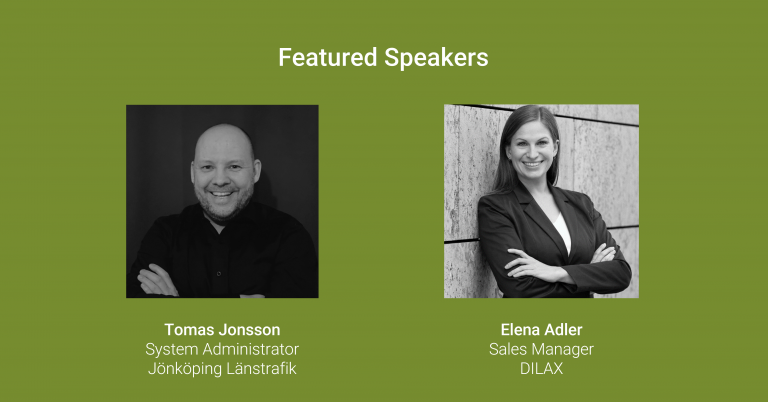 "Data is key", says JLT's senior system administrator Tomas Jonsson, who has a strong vision to use data for the development of public transport. "We already have a lot of data, but I don't want to stop there. Our vision is to create a data warehouse: Data integration, AI and machine learning combined with business analytics, that's where we are headed!"
A big vision and still quite a long way to go, but Jönköping region is taking impressive steps toward sustainable urban mobility with the help of data.
Watch here the inspiring live discussion with Tomas Jonsson and moderator Elena Adler and find out how the region is making data analytics a standard. We look forward to seeing you there!
Sustainable urban mobility
Around 300 busses are running in the region of Jönköping, which is located in the south of Sweden right at the country's second largest lake Vättern. The regional capital, also called Jönköping, is home to the transport association Jönköpings Länstrafik, JLT for short. All city busses are electric and regional traffic amounts to 20 million kilometres a year. Sustainable transport plays a big role there, and passenger numbers of public transit are on the rise, seeing an increase of 30% in ridership.
Driving change through data
To make more progress in improving its service that JLT has committed to is data analytics. Already today aAlmost all vehicle doors in the network are equipped with sensors for automatic passenger counting, providing vast amounts of passenger data without extrapolation. Real-time occupancy information and predictions seems only one step away and there are already plans to make occupancy data available to passengers, too.
Data integration is one of the next steps for the Jönköping transport association, because a lot of different data needs to be processed: from passenger counting to object recognition and counting, to battery data and route planning. Tomas Jonsson makes clear: "This not only requires a strong data infrastructure, but also highly skilled professionals in BI, AI and machine learning."
Exchange of best practice
This DILAX Lab offers a great opportunity to exchange thoughts and ideas regarding the future of passenger data in public transport. We at DILAX are very happy to work with Tomas and his team at JLT to deliver rich data for better mobility. If you have any questions or feedback on the DILAX lab, please feel free to write us what you would like to know: webinar@dilax.com