Meet us at Autonomy Paris!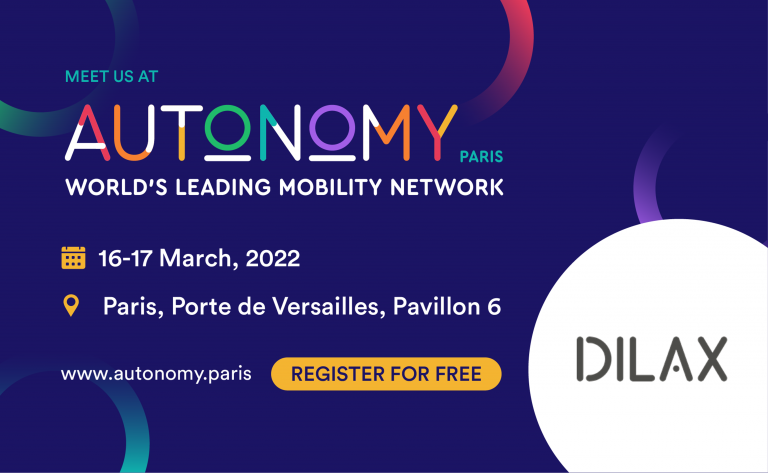 Porte de Versailles, Pavillon 6, Booth F46
DILAX is going to be an industry partner at this years' Autonomy Paris on March 16-17. The show is dedicated to new sustainable mobility solutions and serves as an annual meeting point in the B2B (Business to Business) and B2G (Business to Government) mobility industry.
Data analytics for better mobility
Urban mobility is changing, and public transit has to offer more and improved mobility services. An increasing amount of data is being collected and evaluated for mobility management. DILAX Citisense is the analytics tool for mobility data. With its modular design, the software combines data from automatic passenger counting with other data sources and transforms it into insights and knowledge. Use Cases include sustainable traffic planning, demand prognosis, passenger flow, real-time information and smart monitoring. Join us at the DILAX booth on March 16 at 2:30pm or March 17 at 10:45am for a demo and introduction to the Business Intelligence Software Citisense.
How an increased demand for passenger information shapes fleet planning in post-COVID times
Passenger information has become increasingly important over the course of the COVID-19 pandemic. Although the technology for automatic passenger counting and live occupancy has been around for a while, the crisis has certainly accelerated the interest in passenger information on both sides.
In the DILAX panel discussion on March 16 at 10:50am, moderator Elena Adler welcomes three guests to talk about passenger information and data sharing in public transit. Thorsten Kies, the company's CEO, has supported customer projects in public transit since 2011 and is a specialist for counting sensors and mobility data analytics. Daði Áslaugarson is the Head of IT at Strætó bs, the main public transport operator in Iceland. In this role, Daði has gathered extensive experience in data analytics for public transit operations. The third guest panelist is Lucile Ramackers, a public transport consultant and mobility enthusiast who has worked on numerous urban mobility projects with operators and city planners.
In order to attract more people to public transit and reach the European commission's sustainability goals, a delegated regulation was issued in 2017 with the aim to exchange and use mobility data for the provision of comprehensive travel information services across all EU member states. The objective of shared data was ultimately supposed to contribute to better mobility services in urban areas and to facilitate planning. How shared data are believed to contribute to changing mobility habits, how operators use data to improve their services and how the EU regulation contributes to better urban mobility overall are some of the questions that will be discussed in this panel session.
Join us at Autonomy in Paris. Get your free ticket to the show here.