Designing Urban Spaces - How To Use Data For City Development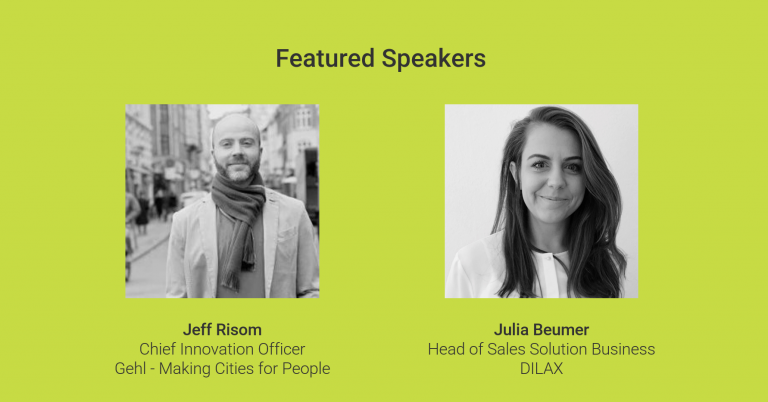 Update for Cities
Webinar on January 28th, 2021
Cities are the future. For billions of people worldwide, living and working in cities and metropolitan areas. But what are the prospects? In the pandemic, we notice how important public space is for our everyday lives. There is no space to keep your distance, space to enjoy being outside. Can we move and meet safely and healthily in the street?
How people use urban space can be measured. Why they behave in this way is a question one can ask them. The analysis of such data is groundbreaking for the transformation into a resilient city. We are looking forward to having this discussion with Jeff Risom, Chief Innovation Officer at Gehl, Copenhagen. The urban planners from Copenhagen are in demand all over the world when cities want to bring about change.
Click here to watch the DILAX Lab of January 28, 2021 on demand.
Jeff Risom is a specialist in the use of data in urban planning. He and his colleagues use big data and thick data to create lively neighborhoods for people. Creating Cities for people has been Gehl's mission for over 30 years. The Danish consultants for urban development have collected, evaluated and worked with data for projects in about 300 cities worldwide. With the Life Data Protocol, Gehl and partner have defined an open source standard for collecting data on urban life.
Of course, there are many dimensions in which cities want and need to change: questions of mobility, security, quality of stay, supply, climate protection, culture and entertainment, the environment, education and health. The 15 minute city that Paris is evolving into, is a concept that combines many of these aspects.
In our conversation with Jeff Risom, we want to explore what defines the livability of urban spaces, how public spaces are a defining factor of neighborhoods, which connections to public transit a public space needs, what the future holds for shopping streets. And also the question: why counting in public spaces is by now a constant source of data for #bettercities?