APC-Data in Realtime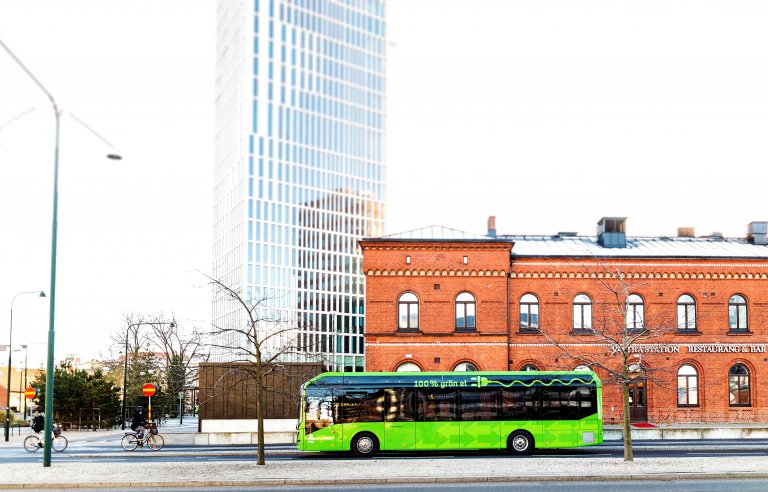 Skånetrafiken, the transport association of the province of Scania (Skåne in Swedish), organizes all public transport in the south of Sweden, including the connection to Copenhagen. Its annual turnover is SEK 6.2 billion. Each year, city buses, regional buses, passenger trains and mobility vehicle services contribute a total of more than 170 million trips. Around 14,000 tours are operated daily by various transport operators.
DILAX has been working with Skånetrafiken since 2014. In many lines and vehicles the DILAX APC sensors are used for passenger counting. This high rate of equipment throughout the fleet enabled the transport association to respond quickly after the pandemic outbreak in the spring of 2020. Skånetrafiken showed its customers real-time data on vehicle occupancy in ongoing operations on its website as early as the end of April.
The traffic light principle shows how full it is
The website contains a map that shows the current location of all lines. The traffic light system has been integrated into this map: Buses and trains that are currently running, where passengers boarding and alighting are automatically counted, are displayed in traffic light colors depending on how full they are.
If less than 50 percent of the seats are occupied, the vehicle will be marked green. If 51 to 75 percent of the seats are occupied, the vehicle and line will show up yellow. Lines are displayed in red when 76 percent or more of the seats are occupied.
With this information, customers can decide whether to use another means of transportation or choose their travel time differently when occupancy is high. The idea for this application was born at a "Hack the Crisis" hackathon hosted by the Swedish government.
Hack the Future starts now
DILAX has spoken to Martin Baeck, Developer Vehicle Technology with a focus on APC data and crowd insights, and Carl Järsberg, Unit Manager Service Development, about the project.
DILAX: Let's talk about some numbers first. How many bus and train lines are you operating? How many individual busses and trains are part of your fleet? What is the percentage of vehicles that are already fully equipped with APC?
Martin Baeck: I think we have about 230 bus lines, 7 X31 lines (Öresundståg), 12 X61 lines (Pågatåg) and 1 tram line. We have over 1100 busses, 111 + 90 trains (X31 and X61 resp.) and 7 trams. In addition to this we administer about 500 vehicles for service travels, i.e. demand driven travels to/from hospitals and passengers with special needs. 40% of the busses (500), 100% of the X31 trains, and all 7 (100%) trams are fully equipped with APC.
DILAX: When did you start thinking about integrating real-time occupancy data into customer service information? How quickly were you able to implement that?
Martin Baeck: We have had the intention to share predictive occupancy information with our passengers since we integrated APC technology into our vehicles and systems. As a result of COVID-19, it was quickly decided to include real-time data in our live map. In the beginning it was based only on the current on-board count that we already had in our APC reporting in the backend, so it was at that time not suitable for occupancy prediction. Then we gave a partner company access to a copy of our real-time backend system, so the occupancy data could be incorporated into the live map. The result was ready and visible by the end of April.
DILAX: How difficult was it to use APC data for the real-time occupancy display?
Martin Baeck: We didn't see any major difficulties in the integration.
Carl Järsberg: The only problem in using the APC real-time data arises in connection with reading and linking the correct numbers. Sometimes buses would show occupancy before they even started their tour. Those had to be corrected or excluded.
DILAX: Why did you choose to show the real-time occupancy information on the website first instead of in the app?
Martin Baeck: There were a couple of reasons for that:
We wanted to test in front of a "smaller audience", mainly because of the very fast development, known bugs and testing during launch.
Time-to-market, i.e. the sudden decision due to COVID-19 came while our app developers were busy with other planned and equally important work.
We have got APC only for part of our fleet at this point.
We would like to show occupancy prediction in the app.
DILAX: Is this only intended as a COVID-19 service, or do you plan to make it a permanent offering?
Martin Baeck: It is considered a COVID-19-specific solution. However, we are gathering a lot of input and experience for our upcoming work with requirements of future services. It will probably stay alive for some time.
Carl Järsberg: This web-based solution is a temporary set-up that we wanted to make available quickly to our customers. We have now also launched a predictive service in our app. It is at this point based on statistics from travel searches, bought tickets in the app and validated tickets. But it will soon also take APC statistics into consideration.
DILAX: Have you learned anything new by analyzing real-time occupancy data for your service offer?
Martin Baeck: I think we have shown other parts of our organization that DILAX's APC system provides more meaningful data than perhaps was commonly thought.
DILAX: How have passengers responded to the new offering? Has it been well received?
Carl Järsberg: It's the most clicked page on our website. It even has more traffic than our search function. So it is a very popular feature. Passengers had been questioning why the service cannot provide information on the entire trip, since the information was not predictive. So we responded to this demand and implemented the forecasting into the app, which was also very well received.